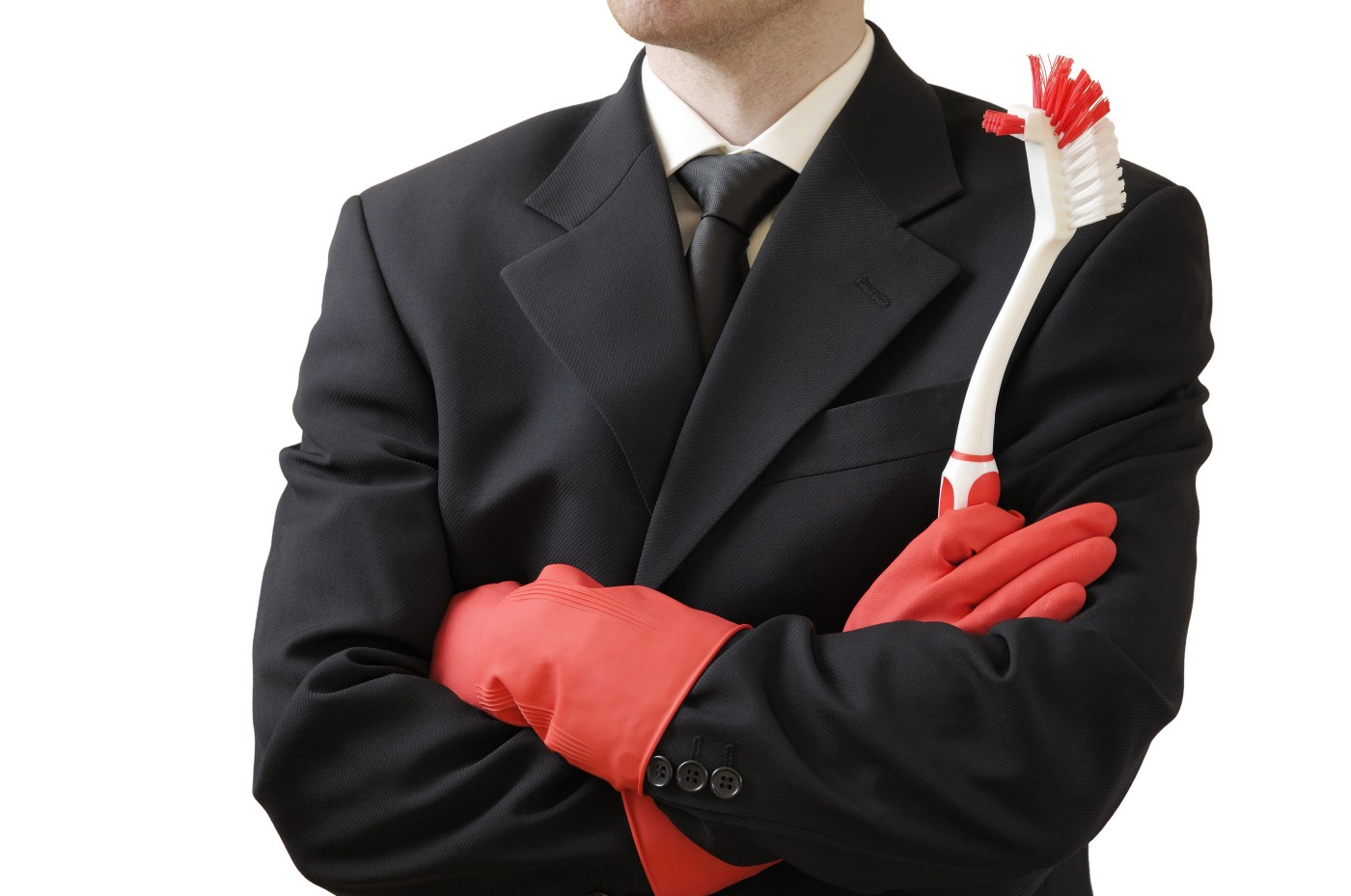 Would You Pay Your Lawyer £1,000 to Clean Your Bathroom?
Here's why it might not be such a bad idea...
In our previous article, 8 Easy Steps that Help Deliver the Promise of Law Firm Panels, we took a quick look at the process of appointing external lawyers.
In this piece, we're exploring the possible ways traditional and tech-driven clients could work better together with external lawyers for mutual benefit.
In essence, clients need commoditised or tailored legal advice, to an agreed standard, within a given timetable, that delivers value.
Concurrently, law firms need to deliver all that while recovering the agreed fees.
It's also quite nice (but not mandatory) if everyone likes each other and the whole process is a pleasure.
That last bit is just too much I hear you say. Perhaps. Perhaps not.
"I never knew that about you"
What are the elements that make the above more likely than not to happen?
They will include but definitely not be limited to:
A common language and a common understanding
The law firm understands (non-exhaustive list): 
a) the economic and political environment within which the GC and their team operates
b) the client's risk appetite
c) what value in any given context means
3. The client understands (non-exhaustive list):
a) what the law firm can deliver
b) the law firm and the relationship partner are committed, engaged and has the full capability of the firm at their disposal
c) the relationship partner's constraints/working environment/pressures/limitations
How do you achieve all of the above as efficiently as possible, across all layers of client and law firm, to deliver the optimum outcome for each instruction?
Gemba Kaizen
Gemba Kaizen is a Japanese concept of continuous improvement designed for enhancing processes and reducing waste.
In a past life as a General Counsel (GC) we adapted and evolved the way we worked with our law firms.
We reduced the total number of firms on our global 'panel' and relaunched the new arrangement with a two day Gemba Kaizen style get together on our premises (open disclosure we weren't into waste management but luxury hospitality which I accept did make life a little easier).
All the law firms attended not just with our legal department but also multiple stakeholders within the business (in our case revenue management, sales and marketing, brand, development, hotel managers etc).
In house and external lawyers spent both days working side-by-side, including external counsel from different firms working next to each other.
Joint exercises – including a live scenario in maximising hotel revenue. This was more than a little embarrassing for one or two people due to how badly they did.
A half empty hotel paying the lowest rate is the legal equivalent of 50% utilisation with 50% recovery.
The favourite part seemed to be when external lawyers were assigned hotel jobs for the afternoon and early evening – such as bar tender, lifeguard, housekeeping, butler.
Put those rubber gloves on if I were you
Now I was accused of being very mean indeed for 'inviting' a £1,000 an hour lawyer to clean toilets.
It's not as if it was my toilet (that I grant you would have been a bit off).
The job needed doing. I had done the same housekeeping role the previous year (the trick is not to mix up the cleaning cloths – toilet cloths are definitely different than the ones for elsewhere).
An argument goes – if your external lawyer doesn't understand how you make your money, your company culture, what works, what doesn't, then how can they best serve your needs in context and whilst delivering the expected value?
Not one of the lawyers complained about any aspect of the two days.
Not to my face anyway.
It was however impossible for the passion of our colleagues, for the company and the brand, not to rub off and burnish our external counsel.
The heightened engagement of the external lawyers, following that experience, was tremendous.
The Agenda
During the two days we:
Introduced them to our internal clients
Horizon scanned – company plans, new jurisdictions and similar
Provided insight into the realities of delivering legal services internally
Shared humorous and deadly serious events of the previous few years
Ensured we understood the common language of the hospitality industry
Ensured the client relationship partner of each of the global firms knew each other (including joint presentations by the law firms to everyone).
Did we achieve what we set out to?
The exercise was not, of course, the panacea to all ills or a code that cracks the essence of a perfect relationship with external lawyers.
Certainly, we found it a great foundation, upon which we built further with secondments, training days, and a bit more besides.
The environment within which the in-house team functions is key. If external counsel is not familiar with it, or are deaf or blind to the issues, the relationship is doomed.
Surely an adept client relationship partner should be able to answer all the following questions:
Who does the legal function report to?
What is that person like?
Are they a big fan and fully supportive of the legal department?
Does the wider business respect the legal function?
Do they see it as central to the business or a hindrance?
What's the legal budget process?
What does more for less mean to the client?
Is legal department headcount in jeopardy?
What else can a law firm do to plug risk gaps?
Is all of the above admirable but in the end simply fails to deliver market driven value or any tangible other benefits?
In your experience is all that a waste of time?
All the extra 'get to know you' activities and harmonisation of working practices simply DOESN'T deliver any long term, demonstrable benefits whether that be:
Better working practices
Improved horizon scanning or
Value driven services – including the important component: acceptable FEES?
Might you just as well expand the net from a close group of firms to ensure for each instruction you get access to the best of who is out there?
How do you ever know who and what is out there in the market?